One thing is for sure as the 2012 NFL regular season draws to a close. There is going to be a great deal of quarterback movement in the offseason as some teams move on from the past and others attempt to actually find someone of substance at this all-important position.
As you might already know the free agent and draft classes at quarterback leaves a lot to be desired. Outside of Geno Smith, there really isn't a single franchise-caliber starting quarterback in the draft.
Meanwhile, Jason Campbell is the only soon-to-be free agent even worth looking at as a stop gap starting quarterback option. Even then, he leaves a lot to be desired.
Instead, we are going to see quarterbacks released and traded, which adds to what is already going to be an intriguing offseason. On that note, I thought it made some sense to take a look at a few quarterbacks that will be changing teams in that manner following the season.
Michael Vick, Philadelphia Eagles
Philadelphia can get out from under Vick's contract at a cost of just $4.5 million if it releases him prior to the start of the new league year. While the Eagles are definitely going to look in trading their oft-injured quarterback, no team in their right mind will pick up $70 million (non-guaranteed) remaining on his contract.
Additionally, the Eagles seem to have a competent young replacement in the form of rookie Nick Foles, who has impressed in limited action in 2012. If the Eagles do end up releasing Vick, a strong likely hood, two teams have already been mention:
The Buffalo Bills and New York Jets. Yes, the very same Jets who just recently indicated to a source that they are looking for "ball security" from the quarterback position. I guess Rex Ryan and company don't have much tape on the 2011 and 2012 version of Vick.
Buffalo is a really intriguing option here. Ryan Fitzpatrick just isn't getting the job done and seems to be regressing from a strong start to the season. While Buffalo just recently signed him to an extension, it can easily get out of the financial terms without having too much dead salary cap money. I see them as a solid possibility.
Pure conjecture, but the Arizona Cardinals also seem like a fit. Kevin Kolb is as good as gone, while Ryan Lindley and John Skelton have been nothing short of disastrous in 2012.
Alex Smith, San Francisco 49ers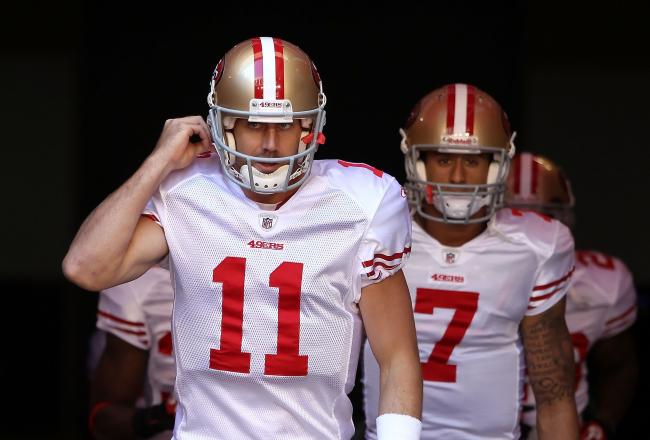 If San Francisco decides to trade or release Smith he will immediately become the most coveted quarterback on the market. It is becoming more and more like that will be the case due to the strong play of second-year quarterback Colin Kaepernick.
Smith is a really intriguing option. He was leading the NFL in completion percentage and second in the league in quarterback rating prior to being benched in lieu of Kaepernick. At 28, Smith also seems to be in the prime of his career and has never played better.
He is also set to earn just $19 million over the next two seasons, which is pennies on the dollar for a solid starting quarterback. Considering how weak the free agent and draft classes promise to be this offseason, San Francisco should be able to trade Smith for a decent bounty; most likely a mid-round pick and future considerations.
If the Jets are indeed serious about ball protection, Smith would seem like a great fit. After all, he has thrown one interception per 50 pass attempts over the course of the last three seasons. The Kansas City Chiefs, who are going to part ways with Matt Cassel, are another option.
Mark Sanchez, New York Jets
New York finally understands what the rest of us already knew about two years ago. Sanchez just isn't a good NFL quarterback. In order for it to succeed moving forward it will have to part ways with the former top five pick.
Despite signing a three year, $40.5 million extension with New York back in March, I just don't see a scenario where the franchise brings him back. It will, however, be on the hook for nearly $9 million should it be forced to release Sanchez.
Various reports indicate that the Jets are going to test the trade market for both Sanchez and Tim Tebow. That being said, there isn't going to be much of a market for either of them as starters. Heck, there won't be one.
A team like the Arizona Cardinals, Jacksonville Jaguars or Kansas City Chiefs could bring Sanchez in, under a restructured deal, to be a backup for a young quarterback.
Meanwhile, Tebow isn't going to get any play at all. He is a collegiate-level quarterback who would need an entire offensive philosophy changed in order to succeed. That's not happening in the NFL.
Carson Palmer, Oakland Raiders
$11 million of the nearly $40 million remaining on Palmer's contract is guaranteed. This makes it incredibly hard for Reggie McKenzie to part with the disappointing veteran quarterback. His choice is either take a $11 million cap hit in 2013 in order to look to the future (Terrelle Pryor?) or be stuck with Palmer for another season.
That being said, keeping Palmer on next season would be delaying the inevitable. He is guaranteed nearly $8 million in both 2014 and 2015. I can easily envision a scenario where McKenzie decides to bite the bullet.
Palmer still has the talent and arm to be a somewhat reliable starting quarterback. His problems in Oakland seem to be that he doesn't fit the scheme all too well and struggles with decision making. A team like Arizona could easily make a play for him as a stop gap for a rookie.