35 percent of the teams that didn't make the playoffs in the NFL have already fired their head coach as of noon on the west coast Monday. Needless to say, franchises went the way of spring cleaning this winter.
Here are the coaches that have been fired already
Norv Turner, San Diego Chargers
Romeo Crennel, Kansas City Chiefs
Pat Shurmur, Cleveland Browns
Chan Gailey, Buffalo Bills
Ken Whisenhunt, Arizona Cardinals
Lovie Smith, Chicago Bears
Andy Reid, Philadelphia Eagles
Now let's take a look at the candidates that I have come up with.
Greg Roman, Offensive Coordinator, San Francisco 49ers
Roman received a lot of play last season; mostly from the Indianapolis Colts in the NFL and Penn State in college. I would be incredibly surprised if he returned to San Francisco as its offensive coordinator in 2013. He seems to be a hot guy around league circles right now.
Personally, I believe a team like the San Diego Chargers would be the best fit. Coming on the heels of another disappointing season with a veteran head coach, San Diego should be looking for some new blood. Roman did wonders with Andrew Luck in college and has been damn good with both Alex Smith and Colin Kaepernick with the 49ers. He could have a nice working relationship with Philip Rivers.
Another team that makes a ton of sense in the Kansas City Chiefs, who will be looking for an offensive-minded head coach and will be bringing in a young quarterback in April's draft. Pretty much the same reasoning behind this idea as Roman going to San Diego.
Chip Kelly, Head Coach, Oregon
The most likely scenario here would be the Philadelphia Eagles, who just relieved Andy Reid of his duties. You can bet they're going to make a splash in their head coach search and Kelly is probably going to be Harbaugh-esque in terms of interest he receives.
Kelly could redefine the offensive scheme in the NFL and would have the tools to be successful in Philadelphia. The idea that he could have Nick Foles, Bryce Brown, LeSean McCoy, DeSean Jackson and Jeremy Maclin on offense has to make this an intriguing option for the current Oregon head man.
Don't expect Kelly to take any job, either. He can easily go back to Eugene for another season or two until more attractive jobs open up in 2013 and 2014. Needless to say, he won't be an option in Cleveland or Arizona.
Jon Gruden, Former Tampa Bay and Oakland Head Coach
Now that it appears Oakland will retain Dennis Allen for another season, we can put to sleep the idea of Gruden making a return trip to Northern California. He does, however, have roots in Philadelphia. If the Eagles fail to land, or don't show interest in Kelly, this could be an intriguing option for them.
I am not entirely too sure if teams with young quarterbacks would show a lot of interest in Gruden at this point. He didn't handle that position well with Tampa Bay, which could be cause for alarm. The Buffalo Bills seem like an intriguing option if they're committed to Ryan Fitzpatrick for 2013.
Ken Whisenhunt, Former Head Coach Arizona Cardinals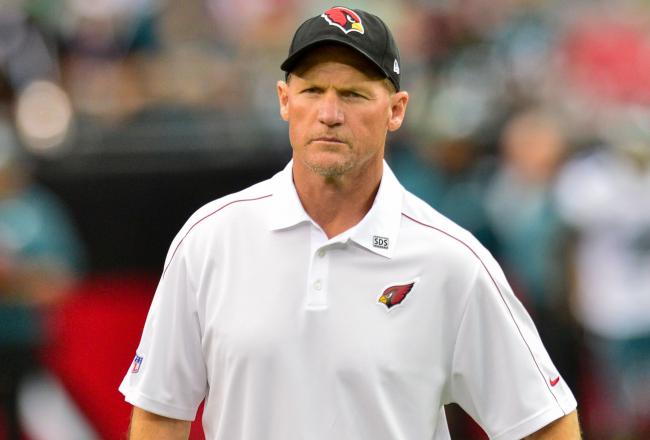 One could easily come to the conclusion that Whisenhunt received a raw deal in the desert. Could any head coach be successful with four different starting quarterbacks in one season. Realistically, he was in a no-win situation this season. That being said, Whisenhunt was not successful with Arizona since Kurt Warner hung up his cleats.
This doesn't mean that the great football mind won't get another chance in 2013. The Chicago Bears, who lack any type of understanding of how to build an offensive line, could be an intriguing option here. More likely than not, Whisenhunt will have to wait until "sexier" names are called upon to get serious consideration.
Bill O'Brien, Head Coach, Penn State
What O'Brien did in Happy Valley was nothing short of amazing this season. Going into a horrible situation, he got the best out of a roster that had to be reeling from the whole Sandusky scandal. It is also important to note that he was a hot commodity around the NFL before taking the job with Penn State.
Filling numerous coaching roles in New England, including coordinator, O'Brien seems to be logical fit for a team with a young quarterback. Scott Pioli, who has ties with New England, has kept his job with the Kansas City Chiefs. He could look to go to the well one more time. A more likely scenario would be the Carolina Panthers if Ron Rivera ends up getting the boot.
Mike McCoy, Offensive Coordinator, Denver Broncos
To be able to make the transition from Tim Tebow to Peyton Manning has to be one of the primary reasons McCoy will get a lot of play this offseason. You have to realize that his offensive philosophy took a complete 180 from 2011 to 2012. Adapting to a new offensive scheme without much too much of an issue is huge here.
Again, we might be looking at a team with a young quarterback here. It looks like Kansas City, who has the No. 1 overall pick in April's draft, could be a solid route for McCoy.
Andy Reid, Former Head Coach, Philadelphia Eagles 
As one of the most successful head coaches in modern NFL history, you can bet that Reid will be on the sideline coaching somewhere in 2013. His name has been mentioned in connection with both the San Diego Chargers and Arizona Cardinals. Interestingly enough, it seems that his people are the one's putting feelers out there.
San Diego would seem like the best fit here for Reid. Though, I really do hope it goes in a younger direction with its head coaching search. Retreads just don't seem to be getting it done in Southern California. Either way, expect Reid to go to a really good situation. After all, he isn't at the stage in his career where going to a rebuilding franchise is too attractive.
Jay Gruden, Offensive Coordinator, Cincinnati Bengals
Gruden should have gotten more play following his stellar coaching performance for Cincinnati in 2011. You can expect him to receive a ton of interest this year. The one issue is that he cannot interview until/when Cincinnati is eliminated from postseason contention. That hurts his chances with teams looking to make a move in relatively short order.
All things equal, Gruden is one of the best offensive minds out there.
Other Options
Gus Bradley, Defensive Coordinator, Seattle Seahawks: Leads one of the best overall units in the NFL with a solid young core. Should get some play, but can't interview until Seahawks season is over.
Brian Kelly, Head Coach, Notre Dame: He would draw a tremendous amount of interest in the NFL, but I can't see him leaving such a great spot in South Bend.
Kyle Shanahan, Offensive Coordinator, Washington Redskins: Teams need to be alarmed that he didn't have much success in Washington until Robert Griffin III didn't show up.
Perry Fewell, Defensive Coordinator, New York Giants: Fewell would probably have been hired as a head coach last season if the Giants had a first-round bye. That being said, his brand might not be as high this year.